13 Female Artists Who 'Stepped Up' In 2019
In 2018, the Recording Academy failed to recognize many female artists who deserved a nod. SZA, the most nominated female artist last year, didn't win a single award. In fact, the ONLY female artist to snag an award during the televised portion, was Alessia Cara for Best New Artist.
When asked about the lack of female representation, Recording Academy president Neil Portnow commented that female artists needed to "step up" if they wanted to be recognized at the Grammys. Can you say eye roll?
Although he later apologized, female artists in the music industry rightfully took the comment to heart, and proved their worth during this awards season.
When Dua Lipa collected her award for Best New Artist, she made a clear nod to Portnow's statement from the previous year, and applauded her fellow nominees by saying "I guess this year we really stepped up." In honor of the feminist crusaders paving new paths in the industry, here are 13 females who "stepped up" in 2019.
1. Dua Lipa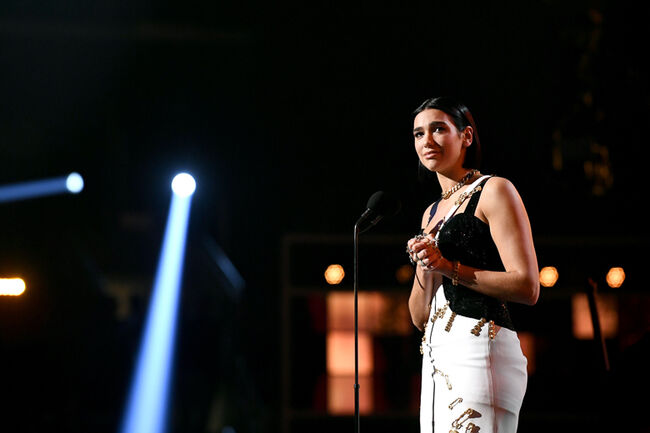 Dua Lipa is the inspiration for this gallery, and for good reason. She snagged two awards at this year's Grammys for Best New Artist, and Dance Recording for "Electricity." Her girl power anthems like "New Rules" have given us mantras to live (and dance) by. In an interview with British Vogue, the pop star remarked, "Feminism to me is not man-hating, it's just being like 'we deserve the same opportunities'." We couldn't agree more.
2. Rihanna
When it comes to boss women in the music industry, Rihanna instantly comes to mind. She's won nine Grammys over the course of her career, and has successful fashion and beauty lines. Rihanna constantly takes a stand for her beliefs. This year, she reportedly turned down performing at the Super Bowl halftime show to show her support for athlete and activist, Colin Kaepernick. Next up on Rihanna's agenda is a new album set to release this year.
3. Ariana Grande
If there's one star who is dominating the charts and blowing up the internet this year, it's Ariana Grande. Her new album, Thank U, Next, is the second she's released in only six months. However, the Grammy nominated star decided not to attend this year's awards, where she was slated to perform. The show's producers reportedly refused to collaborate on Ari's vision for her performance. Despite the drama, she still managed to win her first Grammy for Best Pop Vocal.
4. Cardi B
Cardi B continually pushes women forward in the rap industry. She's worked her way up from a "regular degular" girl from the Bronx, to a Grammy winning superstar. At this year's Grammys, she was the first woman to win best rap album as a solo artist. Not to mention, she released that album whilst pregnant, showing that moms really can do it all without compromising their careers. She's also used her platform as a way to speak to her followers on political issues, prompting #CardiB2020.
5. Lady Gaga
Here's a star that has made advocacy a vital part of her artistry and public persona throughout her entire career. From LGBTQ rights, to her anti-bullying foundation, to her brave support for fellow sexual assault victims, Lady Gaga has been vulnerable in sharing her stories, and unwavering in her support for oppressed groups. We're definitely rooting for her this awards season after lending her multifaceted talents to the film A Star Is Born.
6. Kacey Musgraves
Kacey Musgraves has already had a huge 2019. She won four Grammys, including the coveted Album of the Year category, and kicked off a tour across the United States. After the show she remarked, "Women have a really necessary perspective to art, to music and it's really nice to see that getting a chance to be included."
7. Janelle Monae
Janelle Monae wowed the audience and viewers with her performance at this year's Grammys, during which she pronounced, "Let the vagina have a monologue." The performance was a jubilant celebration of her nominated album, which championed feminism, blackness, and queerness.
8. Kesha
To start off 2019, Kesha took to Instagram with a makeup-free photo captioned, "This year my resolution is to love myself…" She is currently touring for her album, Rainbow, which came after her public legal battles with Dr. Luke, whom she accused of sexual abuse.
9. P!NK
Pink is another artist currently touring on her Beautiful Trauma tour. Her music has reinforced feminist ideals throughout her career that has spanned over a decade. The 39-year-old mother of two has steadily produced empowering hits year after year, never conforming to an image that isn't true to her badass, androgynous image.
10. Demi Lovato
Demi Lovato is a force to be reckoned with in the music industry. In the past year, she's been vocal about her struggle with substance abuse and depression. Her dedication to improving her mental health this year is even more laudable than her noteworthy recent hits, including her Grammy-nominated collaboration with Christina Aguilera.
11. Selena Gomez
Selena Gomez is another artist that we should applaud for taking time off of social media to work on her projects for 2019, as well as her mental health. Look out for new music from Gomez to come soon.
12. Halsey
Halsey has been vulnerable to the public about her various struggles. This year, she shared a raw performance of her hit song "Without Me." During the performance, texts from her cheating ex, G-Eazy, appeared across the stage. After, she took to Twitter writing: "As an artist, I have a privilege to remain honest and write about what's true to me. As a woman, I have a responsibility to not allow myself to be silenced by someone who has done me wrong. My truth will always come through in my art. Death over silence, yo."
13. H.E.R.
H.E.R. came out as another huge winner at this year's Grammy Awards, taking home Best R&B Performance and Best R&B Album at only 21 years old.
PHOTOS: Getty Images